Art in the Park: An Interview with Artist Joli Livaudais
Jolie Livaudias, a recent transplant to Little Rock, explains how easily her process is informed by the world around her.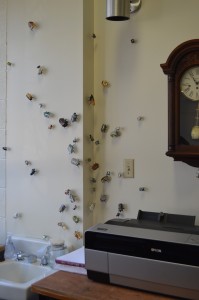 How did you find yourself in Little Rock?
I came for the faculty position here at UALR. I lived in Monroe, Louisiana before we moved here in July. I had a gallery in New Orleans, but I lived in northeast Louisiana.
Had you visited Little Rock before you looked into moving here?
I'd passed through. I hadn't really visited for a long period of time until my interview at UALR. I was really impressed with the area as far as the fact that it's going through some exciting changes. It seemed to me like there was a lot going on. From talking to folks, it sounds like this has all been going on in the last decade so it feels like we are on the brink of doing something really exciting.
Do you think the city as a whole is on the brink or more so the arts community?
Of course, I'm all about the arts community. I think there are a lot of options in this city, culturally whatever you are into, like the Clinton museum, for example.
Does the art scene in Little Rock feel similar to that of Louisiana?
The culture is similar from northern Louisiana to Arkansas. The art scene here is better. We had some things going on Monroe, but it was a smaller town.
What has been the most exciting thing you have found here in Little Rock?
Because it is my first semester at UALR, I haven't done as much exploring as I would like or as I will do. I haven't gone out as much as I should, like to Crystal Bridges. Everyone says I have to go. So far it's been discovering the faculty here; there is a lot of talent here and some interesting people. I am interested in finding some like-minded people and creating opportunities for local artists to show.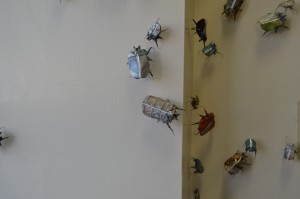 What have you found to be the most effective way to connect with your audience and other artists?
If you go to events that sure helps. You meet folks and you find the network that is definitely out there. It strikes the conversation. I have my students attend at least two art events each semester because I think it's so key.
How long have you been teaching?
Not all that long. I was a professional commercial photographer, and then I went back to school to get my MFA in 2011. I graduated in 2013. I taught while I was in school and then adjunct for a year before coming here. I am still new to it, but I'm not new to photography.
How do you think teaching has affected your practice?
Well, I haven't been able to make as much, which I hate to say, but it's true. But, I still think that this was a really good decision because I feel that the teaching helps me. It's all about the quest. I am trying to teach my students to see and to make, and so art is always top of mind. Although I don't have as much time to make myself, I think all of that reflection helps to motivate me when I do have the time.
The delight of teaching is that you are surrounded by artists all of the time.
You teach photography. Is that a practice you have always done?
I actually got my undergraduate and graduate degree in psychology. Then I was photo assisting in the commercial market in the Dallas area for a couple of years. I learned through an apprenticeship. When I wanted to go back for my MFA, they evaluated me based on my photography portfolio.
I had always done art, but I had never taken it particularly seriously. It was just something I always did. It wasn't until I got into my graduate psychology program and there was no time for art that I felt completely lost and miserable. I felt like I lost a limb. It wasn't until that point that I realized how important art was to me.
So then I did a reevaluation. I finished that degree, but as soon I was done, I pursued photography more seriously.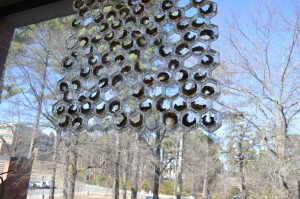 Do you still see your psychology background coming through your work?
Oh yeah, have you looked at my work? I don't think psychology and art are really fundamentally all that different. There is an introspection that happens in both that I think is really useful.
What kind of photography do you do?
I shoot digitally, but I also shoot with medium format and large format film. It depends on what I'm in the mood for or what the job is. In the end, my pieces are not very often flat photos. They are usually some kind of installation work, so it depends on what's going to work best.
When did the 3D work start?
In my second year of graduate school. In my first year, I was doing alternative process work in photography. In my second year, I implemented the resin and started playing with layers and building things up. It kind of went from there.
I can see the creatures crawling up the wall behind you. Are those photographs as well?
Yes. They are folded photographs, all of them. That piece is about the cycle of life, loss and memory. It's about transformation. I decided to keep a few beetles around from the installation.
Where did the beetle form come from?
I was thinking a lot about archetypes, the psychology thing coming back. I started getting interested in the difference between how we view beetles and birds. In thinking about archetypes, they are both symbols for transformation, often times a spiritual transformation. But one of them we see as being a beautiful, heavenly form and the other is something we are really scared of. I am intrigued by that difference. Birds and beetles both appear in my work pretty regularly.
In the end I didn't want something that was that specific; I wanted a generic beetle form. I ended up doing a lot of research. Once I found an origami pattern I liked, I modified it a bit. I wanted to suggest a beetle without you seeing "a horn beetle" or specific species.
How did the resin come about, like the resin in the pieces you have on display at Wildwood?
I wanted to layer images. I started researching how to do that. The first idea was that I wanted to print a photograph on gold. I found a couple of photographers who played with various things and looked at the kind of materials they were using. I did a little experimentation on my own and came up with this process. The trick is that if you print your photograph on a very thin kozo paper and then impregnate it with resin, the paper goes almost completely transparent and the only thing you can see is the ink. I started with thin layers and then wondered, what would happen if I went really deep with the resin? What if I did more than one layer?
And the translucence came next?
Light is key to almost all of my work. That just sort of worked its way in there as well.
Do you find you do a lot of specific reading or material research?
Whenever I am looking, it's usually psychology. Joseph Campbell, psychology, things like that. Most of my inspirations come from a dream journal.
What does your typical day in the studio look like?
Days like today I can do dark room work. I try to keep Fridays as a resin day. I have a little studio space in the university plaza. Usually my pieces take a long time. I have more than one thing going on at one time because they all take so long.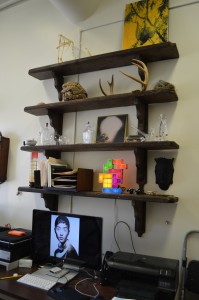 Have you taken any photographs outside here in Arkansas yet?
Not yet. One series I made came from tromping around in the forest. Since then, I've done more studio oriented stuff, although it's funny that you should mention it. I've been thinking the last few weeks that it might be time to pack up my camera and go outside again. It's so beautiful outside here.
What are you currently working on in the studio?
I have in the works a series of installation pieces where I am casting different women's bodies and suspending them in a gallery space. The casted figure would be solid resin, no photos in this one, just translucence. In my figure at Wildwood I have hooks to suspend the figure with fishing line. You know how fishing line is supposed to be invisible, but isn't? I am thinking of putting hooks all around the top and bottom of the figure so that there is this pillar that goes up all the way to ceiling. The fishing line would come down through the body and come out across the floor. The idea is that it is suppose to suggest a tree, but what I think is interesting is if the bodies are real bodies, not mannequin bodies. All different kinds of women. I would want to have 10 or 12 of these so you walk through the figures in the space. That's what is in progress. I think it would be cool if there were enough of them. I don't know where I would show that around here, though.
I see there is a birdcage over here. Do you have a bird?
I do, I bring him up on Sundays when I am not teaching. I have a parrot, an African grey parrot.
Any upcoming shows?
I am supposed to have a show in Mississippi over the summer, but nothing scheduled locally.
What do you think being a successful artist?
I think that's an interesting question. I guess, for me, the ideal success as an artist would be that you could make a living at it. In the end that's not really what I am striving for. I want to be able to show and share my work, to do pieces that I am proud of, and to be able to get those pieces out so other people can see them.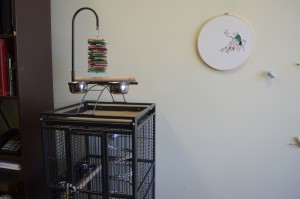 Joli's work is on view at Art in the Park through Sunday, February 15.
To see more of Joli's work visit joli-livaudais.com.
https://www.wildwoodpark.org/wp-content/uploads/2015/02/DSC_0030.jpg
3000
4512
Wildwood Park For the Arts
/wp-content/uploads/2014/08/wildwood-park-trans1-1030x343.png
Wildwood Park For the Arts
2015-02-13 19:49:43
2015-02-13 19:49:43
Art in the Park: An Interview with Artist Joli Livaudais