Shades of Green: Land and Cityscapes of Arkansas
Paintings by John Kushmaul
has been EXTENDED through October 30! 
Arkansas native John Kushmaul has been painting in downtown Little Rock for almost 20 years. For most of those years, John has created his vibrant paintings in a studio above Vinos, a local downtown landmark. Through his trademark style of saturated colors and blurry-edged details, John's paintings capture the fleeting moments of Little Rock city life and the diverse landscapes of Arkansas.  In 2014, the Arkansas Times noted him as one of the five Arkansas artists you should know.  The 2016 Arkansas Times Readers Poll of "Best Of" included John Kushmaul as a runner-up in its Arkansas Artist category.  In John Kushmaul's upcoming exhibit at Wildwood Park, nature takes the front seat as an inspirational theme for many of his paintings.
Gallery Hours:
Monday – Friday 10 AM – 4 PM
Saturday 12- 4 PM
Sunday 12 – 4 PM
September 9 – October 30, 2016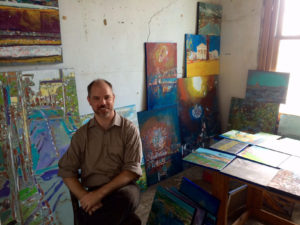 John Kushmaul was born on a military base in Selma, Alabama in 1972. He graduated from the University of Central Arkansas in 1993 with a BA in Mass Communication and minor in art. Currently, John is the Weekend Assignment Editor at KARK and KLRT.  His works are largely inspired by photographs he has taken of the city. "Little Rock serves as a convenient subject because the varieties of architecture document the role of history in a modern day Arkansas. The historic architecture viewed in conjunction with the street's power poles, wires and satellite dishes show both the historic legacy and the progression of technology in Little Rock," said the artist. The light of the seasons is another frequent theme of Kushmaul's works.
Artist Statement 
I paint using a variety of tools. I often use photographs I've taken for reference. I'll use a projector to transfer the image, then take a longer time to finish a work. This process allows me to quickly try to capture a variety of moments. I like the feeling of exploring these moments in my everyday life and surroundings.
My goal is to keep evolving. To do that, I try to keep a lot of options open as to what I am going to do next. Limits can be good, too, so for this series I'm trying to work with green as much as I can. That means also looking for subject matter from nature. Little Rock has always appealed to me for its variety of architecture. There are a lot of structures in some stage of being built or crumbling. And I frequently find inspiration in the local music scene.