WILDMusic Academy for Beginning Musicians — Vocal Session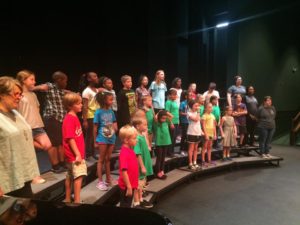 For students ages 6 – 13 with little or no prior singing experience

Session dates: July 17-21, 2017

Performance: July 21 at 3 PM

Session hours: 9 AM – 3 PM; drop-off begins at 8:30 AM

Tuition: $250
Session Description
Students in the WILDMusic beginner vocal session participate in fun and exciting classes focusing on aural, rhythm, and music literacy skills using a variety of instructional methods (including Orff, Kodály, and Dalcroze Eurhythmics) as well as choral rehearsals. Our singers learn a diverse repertoire of songs ranging from the classical canon to American folk music as they develop basic music literacy, solo performance skills, and ensemble performance skills guided by experienced and dedicated instructors. Students will also participate in 2 WILDArts classes. WILDArts classes may include movement, yoga, visual arts, theatre arts, and/or creative writing.
Students participating in this session will:
Be introduced to music symbols and terms

Sing a variety of music in unison and 2-part harmony

Use body movement to learn concepts of rhythm, structure, and musical expression

Learn and apply appropriate techniques and etiquette during rehearsal and performance

Observe elements of music and expressive elements while listening to musical performances by faculty

Explore their own ability to produce musical and expressive elements using their voices
Daily Schedule
Students in the beginner instrumental session will evenly spend their time exploring music and WILDArts. Students have a lunch break around noon. The day ends at 3 PM; optional aftercare is available at an additional cost.
For more details
Contact WAMA Curriculum Manager Angela Collier at 501.821.7275 or angela@wildwoodpark.org.